This partnership project aimed to protect the seabirds in Scilly by keeping St Agnes and Gugh and the uninhabited seabird islands 'rat-free'. The project thanks the EU LIFE programme and the Heritage Lottery Fund for financial support.
The islands are home to breeding populations of 14 species; approximately 20,000 birds in all. This includes both storm petrel and Manx shearwater for which the UK has a global responsibility. Since 1983, however, populations have been in decline.
 The Project had three primary and inter-linked aims which were successfully achieved:
Reverse recent declines in seabird populations on the Isles of Scilly through removal of the non-native brown rat from the islands of St Agnes and Gugh, and maintaining the uninhabited seabird islands 'rat-free'.
Enable people living on and visiting the Isles of Scilly to learn about, take pride in, and play an active role in celebrating and conserving their seabird and wider natural heritage.
Train and support island communities to embrace the benefits of seabird recovery, including the removal of rats, and continue to protect their heritage once the project has ended.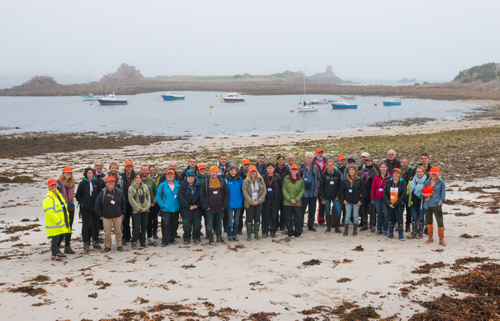 End of Project Conference, St Agnes and St Mary's September 2017
On 13th February  2016 - St Agnes and Gugh was offically declared 'rat-free'! St Agnes school children sang a 'Special Seabirds Song' 
September 2014 - 
First Manx shearwater chick in living memory recorded on St Agnes and Gugh