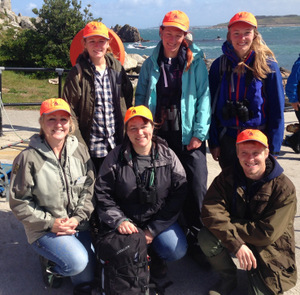 Media release
For immediate release
Crucial seabird count starts today on Isles of Scilly
Throughout this summer a team of RSPB staff and volunteers from the Isles of Scilly Seabird Recovery project will be visiting over 50 rocks and islands across the archipelago to count the number of breeding seabirds they find in this important Special Protection Area [Note one].
The last full survey of all the seabirds across the islands in 2006 confirmed Scilly as the most significant seabird colony in southwestEngland, supporting over 9000 breeding pairs. One of only two breeding sites in England for Manx shearwater and storm petrels [Note two], the islands also support internationally important numbers of lesser black-backed gulls and nationally important numbers of shags.
The surveyors have permission from the Isles of Scilly Wildlife Trust to land on islands such as Annet which are closed in order to protect the breeding seabirds and seals. The team will keep disturbance to a minimum whilst carrying out the surveys.
The work will require calm weather and intrepid boatmen, and once safely ashore the surveyors spread out to search for the nests of terns, gulls and cormorants along the shoreline. For other birds such as fulmars which tend to nest on cliffy areas, a count of sitting birds from a boat is the best plan.
The most difficult birds to count are the Manx shearwaters and storm petrels – both of which nest underground. To find their nest sites surveyors will play a recording of the birds' calls at possible nest entrances and listen for any replies from birds sitting on their eggs.
RSPB Project Research Officer Vickie Heaney said: "We have a great set of data on seabird numbers in Scilly with regular all-island counts completed since 1970. The last full count in 2006 revealed that the overall number of breeding seabird pairs had declined by 25% in 23 years. Having coordinated the surveys in 2000 and 2006 I feel a personal connection with these birds and am really keen to see how they've fared in the last 9 years. Hearing an incubating bird respond with its purring call from beneath the rocks under your feet is a real thrill!"
David Appleton, Isles of Scilly lead for Natural England, said: "Since the last survey, losses in the number of some species of breeding seabirds such as kittiwakes and herring gulls have been recorded, so we anticipate that this count in 2015 is likely to show further declines following trends across the United Kingdom. The findings of this survey will be used to direct conservation efforts to secure the future of seabirds in Scilly."
Jaclyn Pearson, Seabird Recovery Project Manager said: "This full islands' survey is a considerable undertaking and requires support from all the partners of the wider Seabird Recovery Project. We carried out the rat removal operation on St Agnes and Gugh in the winter of 2013, and we hope that by March 2016 we will be able to declare rat-free status under international protocol. In the meantime this summer is an exciting time recording all the islands' seabirds and we continue to ask everyone to remain vigilant for rats on St Agnes and Gugh. If anyone thinks they have seen a rat please call the project 'rat on a rat' hotline on 01720 422153."
This is a partnership project between RSPB, Isles of Scilly Wildlife Trust, Isles of Scilly Area of Outstanding Natural Beauty, Natural England and Duchy of Cornwall. The project is funded by LIFE, the EU's programme for financing key environmental schemes across the continent and a £269,100 grant from the Heritage Lottery Fund.
Ends
For further information and to arrange an interview, please contact:
Tony Whitehead, RSPB Press Officer, 01392 453754, 07872 414365
Notes
SPAs are designated under European Directives that protect our most
important wildlife sites
The other is Lundy.
Full details of the IOSSRP project can be found at http://www.ios-seabirds.org.uk/
In photo: bottom from left, Jaclyn Pearson, Vickie Heaney, Will Scott: top from left Lydia Titterton, Lana Austin, Alice Trevail