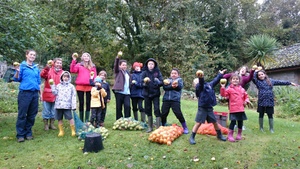 Media release
Children's joy in helping islands stay rat-free captured by winning photograph
Any rats that find their way back onto a rat-free island where seabirds are now thriving would happily snack on windfall apples.
So school children from St Agnes, in the Isles of Scilly, determined to keep their home island rat-free go out to collect those windfalls each autumn.
Now they have been rewarded by coming first in a photography competition, organised for UK projects supported by LIFE, the EU scheme that funds key European environmental projects.
The judges said the winning picture, taken by the RSPB's Lydia Titterton, captured the joy of the children involved in the apple collecting, and was a great demonstration of how the community was engaging with the Isles of Scilly Seabird Recovery Project.
Ms Titterton said: "The school children really look forward to this activity each year. We collect the apples from around the island's gardens and make delicious juice and feed for birds. Everyone wins, plus as you can see from the photo we all have fun too."
Will Garratt, Duchy of Cornwall estate assistant on the Isles of Scilly, said: "This is a key conservation activity because it means if any rats did arrive they are more likely to be detected by the monitoring blocks we leave out. And it's a marvellous example of the community of St Agnes pulling together for the greater good."
Both St Agnes and Gugh were declared rat-free earlier this year, two years after rats were removed from the two islands to improve the prospects for breeding seabirds.
The future of Manx shearwaters and storm petrels was in doubt on both islands because of predation by rats; 73 pairs of Manx shearwater were recorded breeding this year, up from 22 pairs before rats were removed, and in 2015 storm petrels bred there for the first time in living memory, with nine pairs being recorded this year.
Anybody who thinks they have seen a rat on St Agnes or Gugh should call the project's 'Rat on a Rat' hotline on 01720 422153. The project team and islanders will then inspect the area, set up surveillance and respond if necessary.
The Isles of Scilly Seabird Recovery Project is a partnership between the RSPB, the Isles of Scilly Wildlife Trust, Isles of Scilly Area of Outstanding Natural Beauty, Natural England and the Duchy of Cornwall. The project is funded by LIFE the EU's programme for financing key environmental schemes across the continent and a £269,100 grant from the Heritage Lottery Fund.
Ends
For further information, images, or to arrange an interview, please contact:
Chris Baker, RSPB Communications Officer, 01392 453299 / 07701 050010
Notes:
The Heritage Lottery Fund invests money to help people across the UK explore, enjoy and protect they heritage they care about, from the archaeology under their feet to the historic parks and buildings we love, from precious memories and collections to rare wildlife. More information at: www.hlf.org.uk
Full details of the Isles of Scilly Seabird Recovery Project can be found at www.ios-seabirds.org.uk